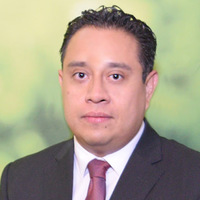 Prof. Jose Antonio Marmolejo
Panamerican University, Mexico
Tel.: +52 555 414 97 58
E-mail: [email protected]
Title: Design and Development of Digital Twins in Business: A Prospective Vision
Bio:
Jose Antonio Marmolejo is a Professor at Panamerican University, Mexico. His research is on operations research, large-scale optimization techniques, computational techniques and analytical methods for planning, operations, and control of electric energy and logistic systems.  He is particularly interested in topics related to artificial intelligence, digital twins, the Internet of things and Industry 4.0. Currently, Prof. Marmolejo, together with his graduate students, leads the laboratory for the development of digital twins in companies and businesses. He received his Ph. D in Operations Research (Hons) at the National Autonomous University of Mexico. At present, he has the second-highest country-wide distinction granted by the Mexican National System of Research Scientists for scientific merit (SNI Fellow, Level 2). He is a member of the Network for Decision Support and Intelligent Optimization of Complex and Large Scale Systems and Mexican Society for Operations Research. He has co-authored research articles in science citation index journals, conference proceedings, presentations, books, and book chapters.
Abstract:
A digital twin is a virtual replica of a physical object or business process and is created by transmitting data generated by sensors connected to the process or product during the development and manufacturing phase. This creates a virtual prototype of a physical environment that helps to analyze and predict the effects of the system in the real world. For this reason, companies have begun to encourage the development of digital twins in their business processes to ensure predictive maintenance and monitoring of the health of their assets.
Digital twin technology significantly reduces production time and cost while optimizing the design and operation of strategic decision-making processes. Therefore, the digital twin has a wide acceptance and high expectations in the industrial and industrial sector business today.
The purpose of this talk is to establish the methodological bases for the design and development of digital twins in the supply chain. Likewise, this proposal contributes to reducing the lack of case studies where these concepts are implemented.